Lori-Anne Faye is a visually impaired photographer. No you did not read that wrong. When Lori-Anne was told that she would lose her vision due to her degenerative eye condition, fuchs endothelial corneal dystrophy, her only response was "I will be a photographer." Seeing the world is a beautiful thing, but to an artist, seeing the world is everything. What does it mean to have that vision blurred, distorted and wiped away? What would you see and what story would you want to tell?
READ MORE
---
ArtLifting Co-Founder and Chief Happiness Spreader Liz Powers wrote this blog post for The Huffington Post on July 22, 2015.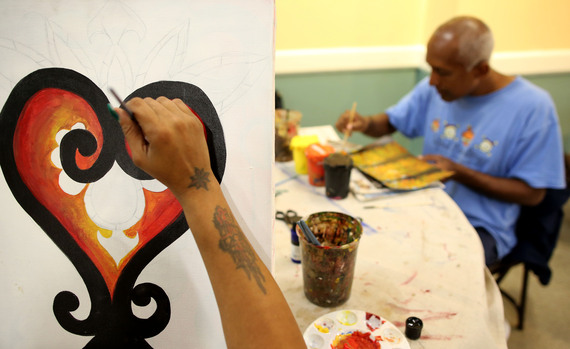 I have worked with non-profits for 8 years and with homeless individuals for the past 9. During that time, I did a lot of reflecting. I thought about how frustrating it was to feel stifled - how I wanted to make an enormous impact. And move fast.
My job used to be running art groups in homeless shelters. Having to wait a year to hear back regarding grant proposals made moving fast impossible. More importantly, however, I thought about all of my friends in non-profits - how they were doing amazing work, but also how much of the work that they did not generate revenue. I didn't want to compete with them for grants.
READ MORE
---